The IT Management Conference & Expo in NYC will bring together the greatest minds in IT for 3-days
ITMC will feature top IT Leadership including Gary Vaynerchuk, the CIO of Forbes, Founder of MySQL, Creator of PHP & CTOs from GE, IBM, CSC, AIG, Avocent, Citigroup, Nortel & many more
New York City - June 18, 2009: The IT Management Conference (www.ManageIT.me) Oct. 14-16, 2009 in New York City will showcase 50+ presentations over 3-days from world-renown industry-leaders such as the Founder & Creator of MySQL Michael "Monty" Widenius, Internet Celebrity & Social Media Sommelier Gary Vaynerchuk, Co-Creator of PHP & Zend CTO Zeev Suraski and Richard Sheridan, CEO of Menlo Innovations & Pioneer of Agile eXtreme Programming.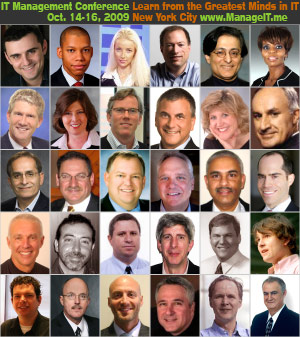 ITMC will include presentations from Chief Executives such as:
- CTO of GE edgelab, Chris Kalish
- CIO of Forbes Media, Mykolas Rambus
- CTO of CSC, John A. Glowacki Jr.
- Deputy CIO of the U.S. Nuclear Regulatory Commission, Thomas Boyce
- CEO of 9,000+ employee firm iQor, Vikas Kapoor
- Distinguished Engineer & CTO for IBM, Richard Cocchiara
- CTO of Avocent Corporation, Ben Grimes
- Chief Innovation Architect of UnitedHealth Group, Murali Kaundinya
- CTO of Ascentium, Alessandro Muti
- Former-CTO of Citigroup, AIG & Kaiser Permanente, Carol Rizzo
- CEO of Savvion, Dr. M. A. Ketabchi
- CIO of Henry Schein North America & Chair of the LISTNET CIO Council, Grace Monahan
- Chief Business Architect at Unisys Corporation, Ron Zahavi
- Founder of ICT Advisory Group & Former-CTO of Nortel, Broadcom, Enterasys & Cabletron, John J. Roese
ITMC will take place at New World Stages, a trendy 60,000 sq/ft location just 4-blocks from Times Square that includes enormous presentation screens, open wifi and super-comfortable plush chairs with stepped-seating for a perfect view from every seat! A daily "Super Special New York Lunch" as well as all-day refreshments will be included.
Attendees can expect to improve their IT management knowledge and skills, do lots of power-networking, get involved in creative ideation and have great fun while learning to be a better leader.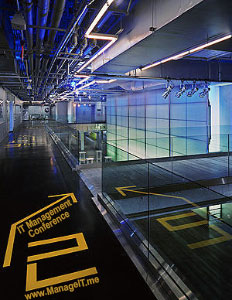 - How to Shine in a Dark Economy by Pamela Rucker, VP of IT for 120+ location industrial services firm PSC
- Enterprise Cloud Computing by Peter Coffee, Director of Platform Research for Salesforce
- Very High Scale Web Applications by Dan A. Richards, VP of Constant Contact Labs
- Web Site Success Factors by Alon Cohen, CTO of Phone.com & Inventor of the basis of VOIP
- How to Raise Capital with Web 2.0 Technologies by Serial Entrepreneur David Teten
- Leading Change by Judy Balaban, Senior Managing Director of Cushman & Wakefield
- Why Open Source Makes Sense by Marco Tabini, CEO & Publisher of php|architect and Python Magazine
- Creating Sustainable Technological Competitive Advantage by Oleg Vishnepolsky, CTO of 24/7 Real Media & the person responsible for the launch of the first consumer ISP
Conference attendees will have access to the IT Management Expo where they will gain insight into the most cutting-edge products and services exhibited and discover new tools to increase productivity, make their jobs easier and their work more efficient.
Attendees who are PMI-certified Project Management Professionals (PMP) will be entitled to claim PDU credits for many of the sessions at the IT Management Conference.
Registration is now open for attendees and press. Exhibition space at the IT Management Expo can be purchased online at www.ManageIT.me/sponsor and provides a cost-effective option to reach an audience of business owners, management and other decision makers. There are a limited number of sponsorship options still available; ITMC sponsorship programs have been carefully designed to give organizations the greatest visibility and the highest ROI.
About the IT Management Conference
The IT Management Conference (www.ManageIT.me) is a 3-day conference and expo on IT leadership and technology management in Midtown Manhattan (New York, NY) on Oct. 14-16, 2009.
ITMC was designed to create a synergy between all the roles involved in IT management, meshing business leadership with the technical management and catering to executives, entrepreneurs, leaders and managers as well as industry-experts who share a passion for leadership and technology. ITMC was also intended to assist developers and technologists in gaining additional management skills and growing into a leadership role.