Green + Tech = Tesla Motors participates in the IT Management Conference in NYC
The new Tesla Motors Roadster Sport is a zero-emissions 100% electric 288-hp sports car capable of 0-60 in 3.7 seconds and 244 miles per charge. ITMC will feature the greatest minds in IT including executive leadership from Forbes, IBM, HBO, GE, AIG, Citigroup, Salesforce, MySQL, Unisys, Zend (The PHP Company), CSC, Cushman & Wakefield, Avocent, Meetup, Nortel and many others.
New York City - July 7, 2009: Tesla Motors (www.ManageIT.me/tesla) has become an official sponsor of the IT Management Conference in NYC, Oct. 14-16, 2009. Attendees of the IT Management Conference will have the exclusive opportunity to schedule a test-drive in the new eco-friendly Tesla Roadster.
The Tesla Roadster is the only highway-capable electric vehicle for sale in North America or Europe and is twice as efficient as a Toyota Prius while faster 0-to-60 mph than a Lamborghini Gallardo.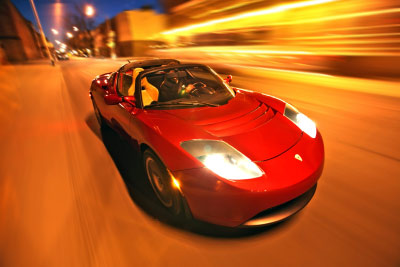 The Tesla Roadster is loved by both car-enthusiasts and environmentalists alike. The Ferrari-challenging performance, carbon fiber body and Brembo/AP Racing brakes will satiate even the most hard-core of racers. The eco-conscious will appreciate the recyclable batteries and tires, sleek open-air design with removable roof and the pennies-per-mile cost to drive comparable to 135 mpg in an ordinary car.
The Tesla Roadster will be on display at the IT Management Conference and Tesla Motors representatives will be available to answer questions about the electric vehicle.
IT Management Conference registration is now open for attendees (www.ManageIT.me/attend) and press (www.ManageIT.me/press).
Exhibition opportunities at the IT Management Expo (www.ManageIT.me/sponsor) provide a cost-effective option to reach an audience of business owners, management and other decision makers.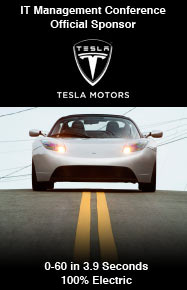 A limited number of sponsorship options are still available; ITMC sponsorship programs have been carefully designed to give organizations the greatest visibility and the highest ROI.
"The technology powering the Tesla Motors Roadster simultaneously solves our issues with oil-dependency and vehicle-emissions while outperforming 99% of gasoline-fueled cars. This is the caliber of success that technology leaders in all sectors should strive for."
-Linda Cohen, Executive Board Member, IT Management Conference
About the IT Management Conference
The IT Management Conference (www.ManageIT.me) is a 3-day conference and expo on IT leadership and technology management in Midtown Manhattan (New York, NY) on Oct. 14-16, 2009 featuring world-renown IT leaders such as the CIO of Forbes, Internet Celebrity Gary Vaynerchuk, Founder of MySQL, inventor of the basis for VOIP, Co-Creator of PHP, Pioneer of Agile eXtreme Programming and CTOs from Citigroup, IBM, GE, Nortel and many more.
PMI-certified Project Management Professional (PMP) attendees will be entitled to claim PDU credits for many of the IT Management Conference sessions.